Pregnancy is a normal condition, not an illness.
Although pregnancy is a happy time for most women, it can be overwhelming news when you find out that you are pregnant and both partners can experience period of excitement often tinged with anxiety.
Shiatsu is a gentle and nurturing therapy in which a pregnant woman is supported, calmed and relaxed. It can give you the space and time to connect more deeply with yourself, your unborn baby and also the process of being pregnant. It offers a powerful combination of touch, breathing and visualisation exercises which are very important during your pregnancy.
Touch can ease physical and emotional stress. Breathing and visualisation can help the mother be more relaxed and connected with herself and her baby and exercise helps support the mother's body in making the changes it needs during pregnancy.
Having Shiatsu sessions during this time of your life is not only beneficial for many conditions that may arise during pregnancy but also helps you to prepare for labour and the time after you give birth.
Each treatment is tailored to your current needs, and nutritional, exercise and postural advice is given as well.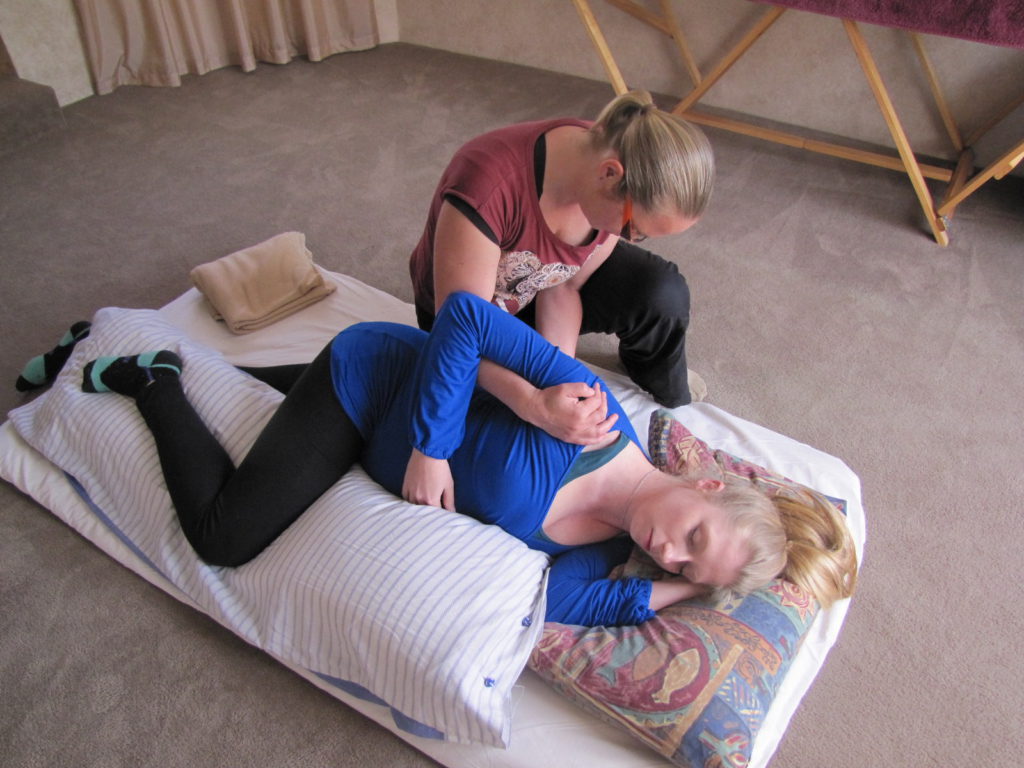 Benefits of prenatal Shiatsu:
Backaches
Tight shoulders and neck
Pelvic discomfort and/or pain
Abdominal compression
Sciatica
Morning sickness
Oedema
Indigestion
Constipation
Restless legs
Breathlessness
Anxiety
Symphysis pubic pain
Cramps
Benefits of Postnatal Shiatsu for the mother:
Helps with postnatal recovery
Supports abdominal and pelvic floor toning
Relieves back and shoulder aches and pains
May help to prevent postnatal depression
Helps promote sleep and ease fatigue
Offers support for breastfeeding
Benefits for baby:
Supports bonding with the mother by giving space to be with the baby
Supports feeding
Supports psychomotor development
Supports emotional development
At the clinic Barbora specializes in pre-conception, pregnancy, birth and postnatal period.
She offers Shiatsu, TCM nutrition and exercise advice to support women and their partners at any of these stages of their life.
She believes pregnancy has a huge impact on the rest of our lives and therefore the importance of working with women during this period of time and beyond. For Barbora it is not only about supporting the mum to be but also in supporting the baby at the very beginning of its life.
Once the baby is born Barbora helps the mothers to regain their vitality and connect with their baby. She can give you helpful tools to enjoy maternity in full health and to give your child best possible start of their lives.
She holds Diploma in Shiatsu and oriental therapies and has trained in prenatal and postnatal Shiatsu with Suzanne Yates (UK), Awakening The Body intelligence and The Feminine with Tarnie Fullon (USA) and PediatricsEssential with Robin Green (USA). She continues deepening her Shiatsu skills by attending other relevant courses and workshops.
She is a fully accredited member of Shiatsu Association of Australia and registered with all major health funds.